Thank you so much for your interest in our Rhodesians. Our address is 2327 CR 204, Oxford, Fl, 34484, and we are located in Central FLORIDA (MAP OF OUR ADDRESS).

Our breeding philosophy, breed information, and pricing information can be found here, Rhodesians.     We have bred and shown multiple Best of Breed Champions as a family endeavor, and we are hoping our children continue our five generation breeding program! Please notate that although we are a show focused breeding program, we do raise great all around family dogs and therefore MOST OF OUR PUPPIES GO TO PET HOMES! People are looking for well bred, healthy, mentally sound and good looking companions and are reluctant to being separated from them for shows, hence do not show. All our pets are sold with a spay/neuter contract and are generally priced between $3000-$3500, shipping starts at $450. Note: since Covid, airlines have suspended pet cargo and hence local pick up, ground transportation OR shipping pet in cabin with a passenger are the only options. Picks of the litter, older/trained puppies or puppies from dual AKC Champions (both parents are Champions) are priced at $3500. SHOW Prospects are only sold on a co-ownership basis. 

We ask you read this RHODESIAN section to answer common questions and also ensure this breed is right for you. The video from Animal Planet is a good place to start if you are just starting your search. Once you are ready to get your very own puppy,  please fill out the form below and we will follow up as soon as we can! We travel often for dog shows and overseas, so the best way to reach us is via email. You may also call our home (352)299-0882.  
Are you interested in a puppy but the timing is not quite right? Maybe you already have one of our wonderful pups and are thinking of adding a new family member? Ridgebacks are contagious and most of our new families get a new puppy within a year or two...or sooner! Well, maybe the solution is getting added to our mailing list and we can keep you posted with our litter announcements! 
Once we have determined we have a puppy which will meet your needs and have reached out ot you, please fill out the deposit form and return.  As we stated on our main Rhodesian page, our primary goal is to breed a fantastic physical specimen who is also the best family dog. As such, we provide several guarantees, which cover both genetic life threatening conditions and general health conditions as required by Florida law. We also offer a 100% money back guarantee as follows: Our puppies are guaranteed to be healthy at the time of the sale and you have three days to have him or her examined by your own veterinarian and five days to return said puppy if ANY health issues are found.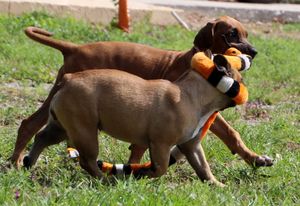 Click on the above link to open our deposit contract in a new window. You have two options as far as completing the deposit:
1. You can email back completed deposit form and make the deposit via Paypal  (link here: PAYPAL LINK ) or Venmo (link here: VENMO). Please add a 3% fee if using a credit card with PayPal. 
2. You can  print deposit contract and mail back with check for deposit. Address is on Deposit contract.
Congratulations, you just completed Step One: Application and Deposit!
The next step in preparing you for your new arrival is to read the page titled  PUPPIES. This section, starting with Section Two,  contains important information regarding the selection and shipping process, what is included in their vet exam/shots, AKC paperwork,etc. It is a long read but answers vital questions, and the best way to prepare for your new family member is to be informed. 
In addition to reading these sections, we have prepared a document to help families welcome their new puppy in their home. This Puppy Reminder list will list food, supplement, and items needed prior to your puppy's arrival. You can print your own copy here: