At Terra Christa Farm we strive to breed the perfect family dog and this is our main priority. We actively  participate in AKC conformation shows, obedience, and lure coursing and have bred champions in both fields. We are very proud of our achievements in the show ring, but also take great pride in our dogs succeeding in working type jobs such as search and rescue, bomb scent detection, and therapy work. Our dogs have a proven abiltiy to not only be conformation champions, but also be superior companions, guard, working or therapy dogs. This is a testament to the attention we place on not only physical attributes and soundness, but also temperament and disposition. We specialize in family dogs as we have three children of our own and hence our puppies are kid handled since birth. Prior to breeding, our dogs are assessed for genetic conditions and pass mutliple health screenings, to include hips and elbows, cardiac screens, and thyroid testing. Puppies are sold with an Official Health Certificate issued by a licensed veterinatian and includes a complete physical, negative fecal, vaccinations and worming. We also provide a health guarantee for genetic conditions, please refer to our contract for details.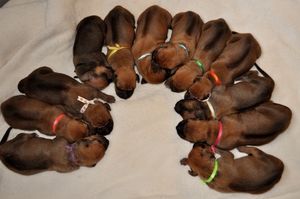 Please check our "PUPPIES" sub- page for litter announcements and puppies currently available, or click  here:  PUPPIES  . Please note all our puppies are sold with AKC papers as follows:

PET with LIMITED papers is a puppy  that is placed in a pet home and must be spayed/neutered
Most puppies going to pet homes fall in this category as they are the true representatives of the breed: priced between $2800-$3000. 
$3,500:  pick of the litter male or female; both parents are AKC Champions;  older, trained pups as well. 

SHOW prospect with FULL papers or IMPORTS: this will generally require a co-ownership agreement and the puppy must be shown and may be bred with breeder approval; $3500 and up.

SHIPPING: If applicable, the cost of shipping a puppy starts at $450, which includes the airline ticket, crate, insurance and health certificate and must be pre-paid. This is subject to change based on the individual airlines.

DEPOSITS: Deposits for a pet puppy is $500. We have shipped our puppies in the continental USA and overseas, and take great care in ensuring a smooth transition. We use United/Continental Airlines/American,  and have been very satisfied with their services. We ship out of the Orlando International Airport and therefore are often lucky and get direct flights, minimizing any stress they might experience. The puppies tend to sleep for the entire trip and recover quickly once in their new homes. If you would rather pick up your puppy in Florida, we welcome visitors! Our dogs are our best ambassadors and we love to show them off!

Our puppy application and deposit contract are both located on the "Contact Us" tab, here Contact Us.
You are visitor number: 52662
Animal Planet's Presentation on Rhodesians
Here is Animal Planet's DOGS 101 presentation on our Ridgebacks. While we agree on most of the content (.."one of the most amazing breeds to walk the face of the earth"!), we do take issue with some of it...Yes, they are generally a healthy breed, but immune to bug bites? No, not really! Also, the part about the exercise...While some of ours are rather active, we also have quite a few "rug" dogs who enjoy nothing more than a nap on the couch, and have failed miserably on lure coursing trials! It is still a good video with information on health issues, temperament, and grooming requirements, so enjoy!