Treats are a fundamental part of not only training, but everyday life! We use treats on a daily basis, and stuff them in our pockets for use after bathing, dremeling nails, post worming, etc. We also use them to train pups, from show stacking, going in and out of crates, to going potty when asked, and...obedience or conformation training. They are also great on long drives when you want to keep them busy or as a treat/dental cleaning combination. 
Here are some of our favorites!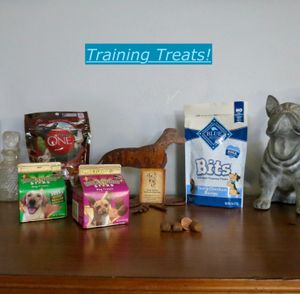 TRAINING TREATS
They need to be yummy, easy to transport, and not greasy as we stuff our pockets with them! Hands down favorite are the little Hollywood Stars dog treats in Liver and Yogurt flavors. They come in a handy 1/2 pint paper/resealable container, first ingredient in Liver Flavor is chicken liver, made in USA and cost less than $1.00! Easiest thing to toss in your bag and go! What else can we ask for?? Yes, too bad they are sold at Wal Mart...but oh, well! As a bonus, I also like they are not greasy and althought already small (less than a penny), they can be broken into smaller pieces. The main ingredient in the Yogurt flavor is also chicken but some of our guys are not as crazy about them, Liver is favorite by far!
Second favorite and also a good value, is the 7 oz bag of Purina One Tue Instinct Bites. They smell like beef jerky and dogs love them! Also made in USA, first ingredient is chicken, non greasy, harder consistency and smaller than the Hollywood Stars bites. Bag is resealable and goes a long way! 
Third place goes to Blue Buffalo Bits, a 4oz resealable bag. Made in USA, chicken is first ingredient and probably has the "healthiest" ingredients. Second ingredient is oatmeal making them a bit porous and not so great for pocket use.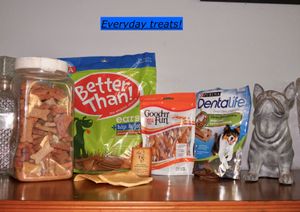 EVERY DAY TREATS
Our dogs get a daily treat at night, right before going to bed, usually one MILK BONE small treat. Keeps them happy and a nice way to end the day. For longer duration (great on trips to dog shows), we use the flat chip rawhides, a two pound bag for about $12. We vary with the Peanut Butter flavored "ears", a rawhide alternative for those not fond of rawhide. And no, we have never had an issue with rawhide in many years of use and accross both the Ridgebacks and Frenchie breeds. 
Our Frenchies LOVE the triple flavor Good n' Fun rawhide treats and while they claim it is long lasting, I don't think I agree or have deffective Frenchies! Entertaining? Sure. Long lasting? Only if you consider five minutes long lasting! Great also for puppies, not as "hard" as the chips and the bacon wrapping keeps them interested!
Another favorite! GOLDEN REWARDS DUCK JERKY RECIPE, found at Wal mart or you can order online. I like it because you can break smaller pieces for the pups, and they love it! Not as hard as rawhide and super tasty. Puppies learn to come just to the sound of the bag!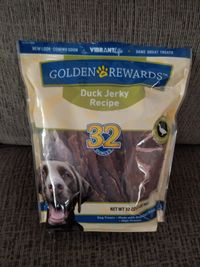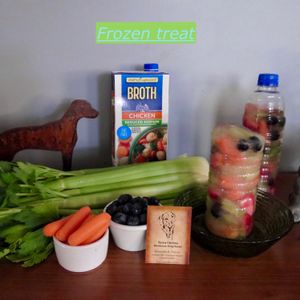 HOMEMADE FROZEN TREAT
I am not a Chef by any means, and anyone can tackle this! This treat is a great cooling snack that doubles as a toy as it takes a while for the pups to get through it. We recycle small water bottles, and fill them up with fruits and veggies, then add chicken broth (reduced sodium is preferred) up to the bottom of the neck (to allow expansion when freezing). To use, allow to defrost a bit, cut off the top and "peel" down the bottom. Here is a close up of the finished product, we used strawberries, blueerries, celery, carrots and melon. Yum!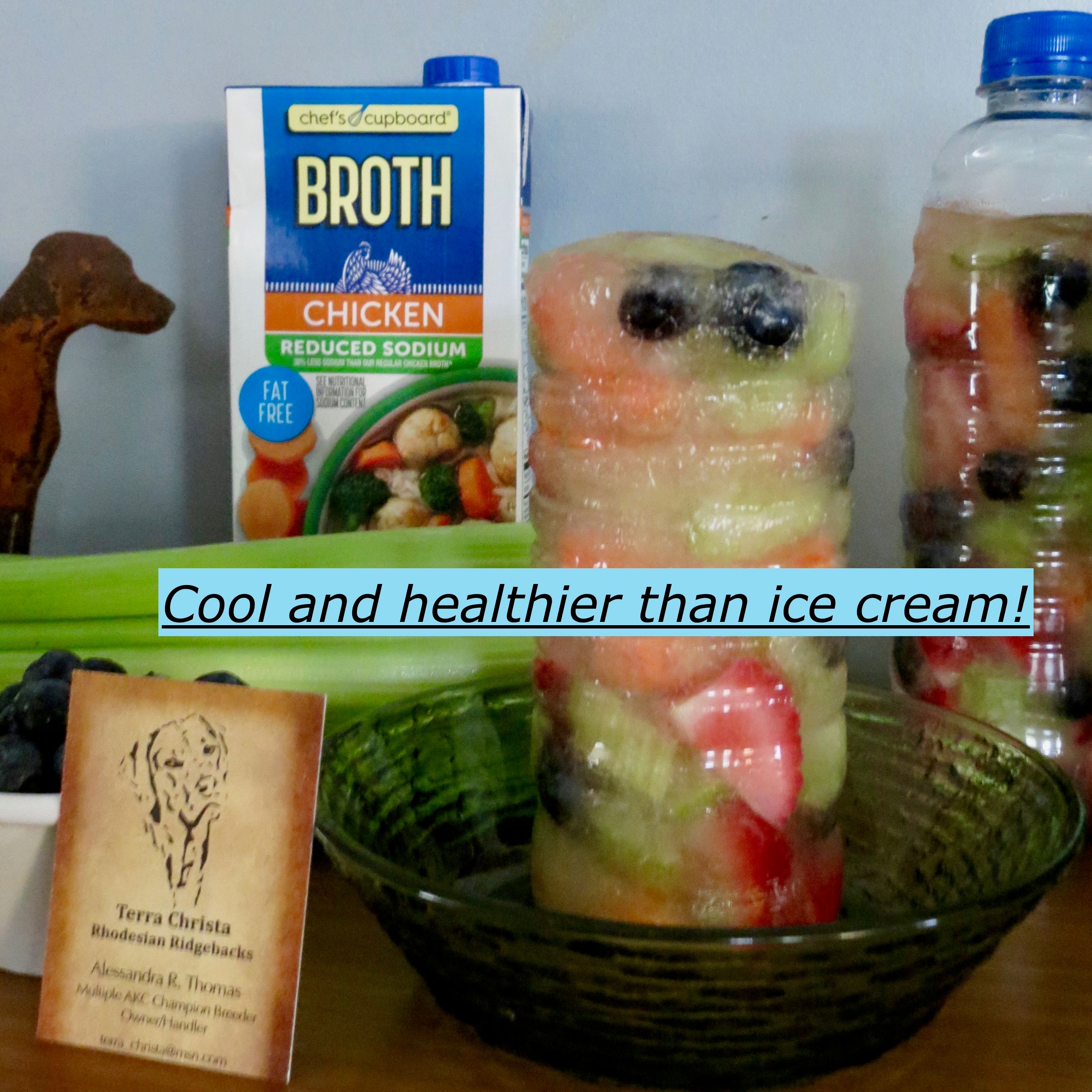 A final word...remember, treats are meant to be just this, a treat, and not a significant source of nutrition! We are seeing more and more overweight dogs and for a Ridgeback, is a big no-no. Remember, they are supposed to be able to track big game for hours, and look effortless in doing it. The reality is most "pet" Ridgebacks are overweight, and owners/vets cannot always see it. Ideally, you should be able to see the outline of the last three ribs of your dog while at an extended trot. They are not supposed to have the breadth of, say, a Labrador. 
So, as a general rule, treats should not be more than 10% of the daily caloric intake of a dog. When giving treats, deduct this from his or her daily ration. Also, some everyday food can be a treat, so why not take advantage of this? Yes, it should be done under supervison, but an empty jar of Mayonnaise is yummy and great entertainment! Our old man Gaius (turned 12 on 2/19) LOVES his jars and is an expert at holding them while licking the bottom! I enjoy a Chobani Greek yogurt while watching TV at night...guess who licks the bottom of the container?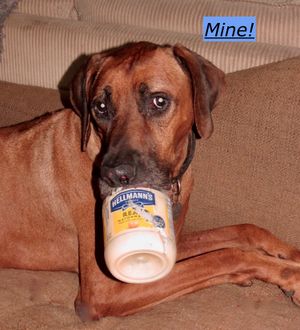 HAPPY TREATING!!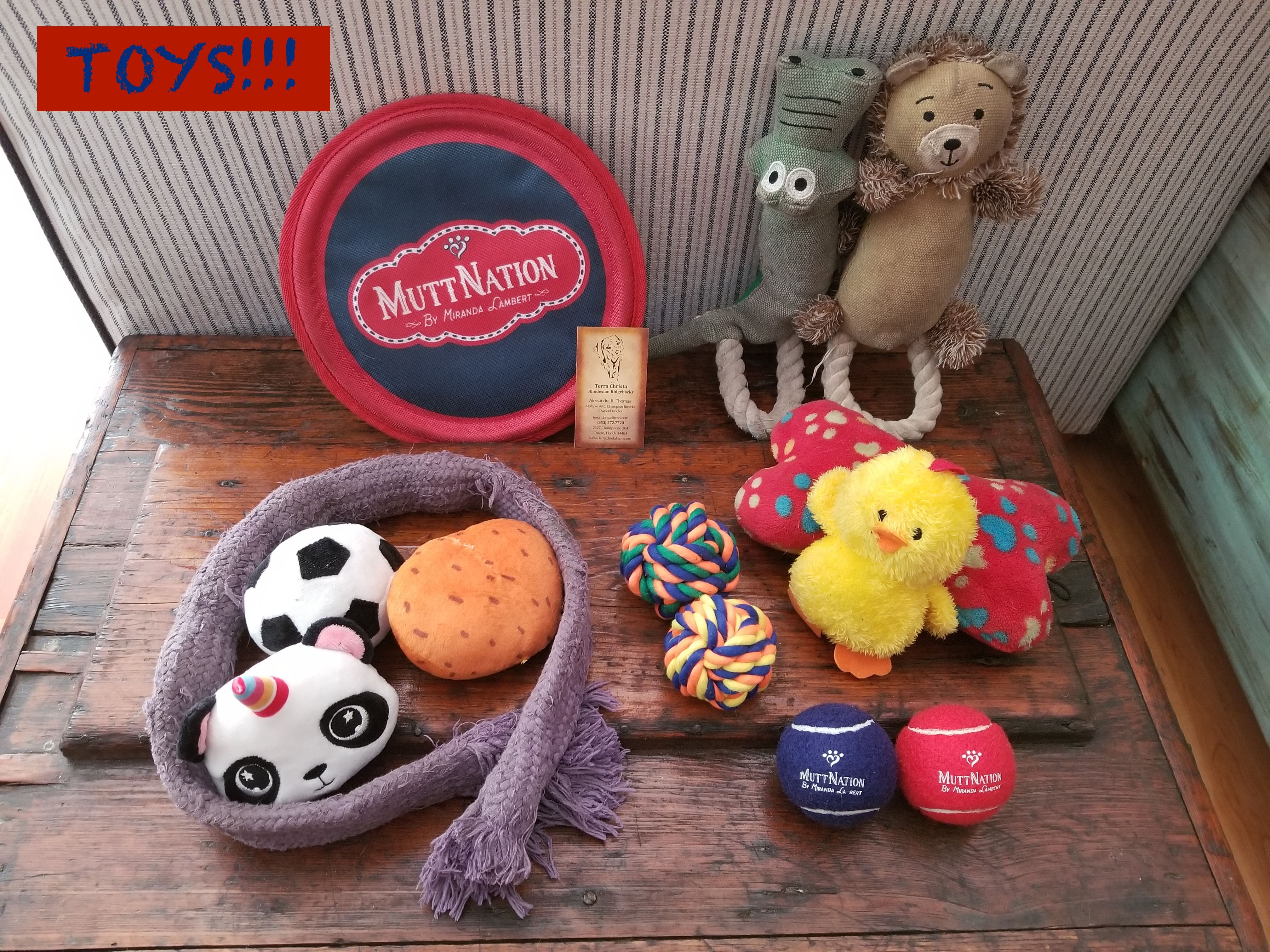 TOYS!!
Puppies will turn anything into a toy! They love to pull on our horse leads when hung up, some with our fancy bridles, lol! Cardboard boxes provide hours of entertainment and chewing opportunities. However, if you are looking for something more convenient, try the following:
~any KONG toy, esp. those where you can put treats in them. Kong brand toys tend to be the most durable
~Frisbees: I prefer the ones made with parachute material and a soft outer edge over the hard plastic ones. 
~thick rope toys with balls attached at end. You can throw and puppies will retrieve. The purple one pictured above is an oldie but goodie, puppies like to play tug of war with it despite the squeakers no longer working!
~soft, small toys with no hard plastic parts to ingest; puppies like to carry around and comfy enough to snuggle with as well (pictured inside rope toy) and yellow chick; 
~tennis balls: I prefer the rope (two mulit colored ones pictured)  ones as not abrasive on teeth like regular tennis balls. 
~hard rubber plastic toys with a squeaky device inside, great for kiddy pool fun. This one has survived many puppy attacks and does well in and out of water.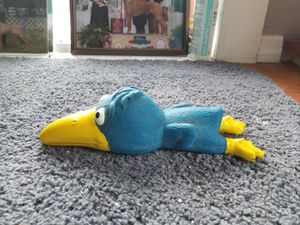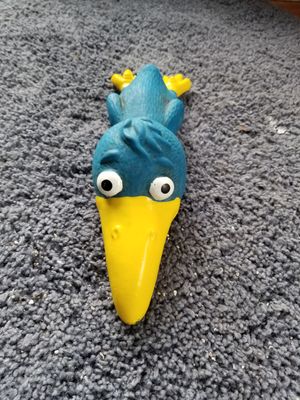 Last but not least: Our puppies enjoy lounging on raised PVC beds. They are easy to clean, keep the pups off the ground, and allow a breeze under them. They are about 8 inches off the ground and make great outdoor resting places for the pooches. I made the misake of getting a HUGE one (50 X 39) to accomodate a whole litter, and it was too big and sagged under the weight. Over time, the bottom was just sitting on the ground, which defeats the whole purpose, lol! Most practical size for puppy to adulthood is the 39 X 27 (pictured below) or maybe one size bigger for an adult that likes to spread out.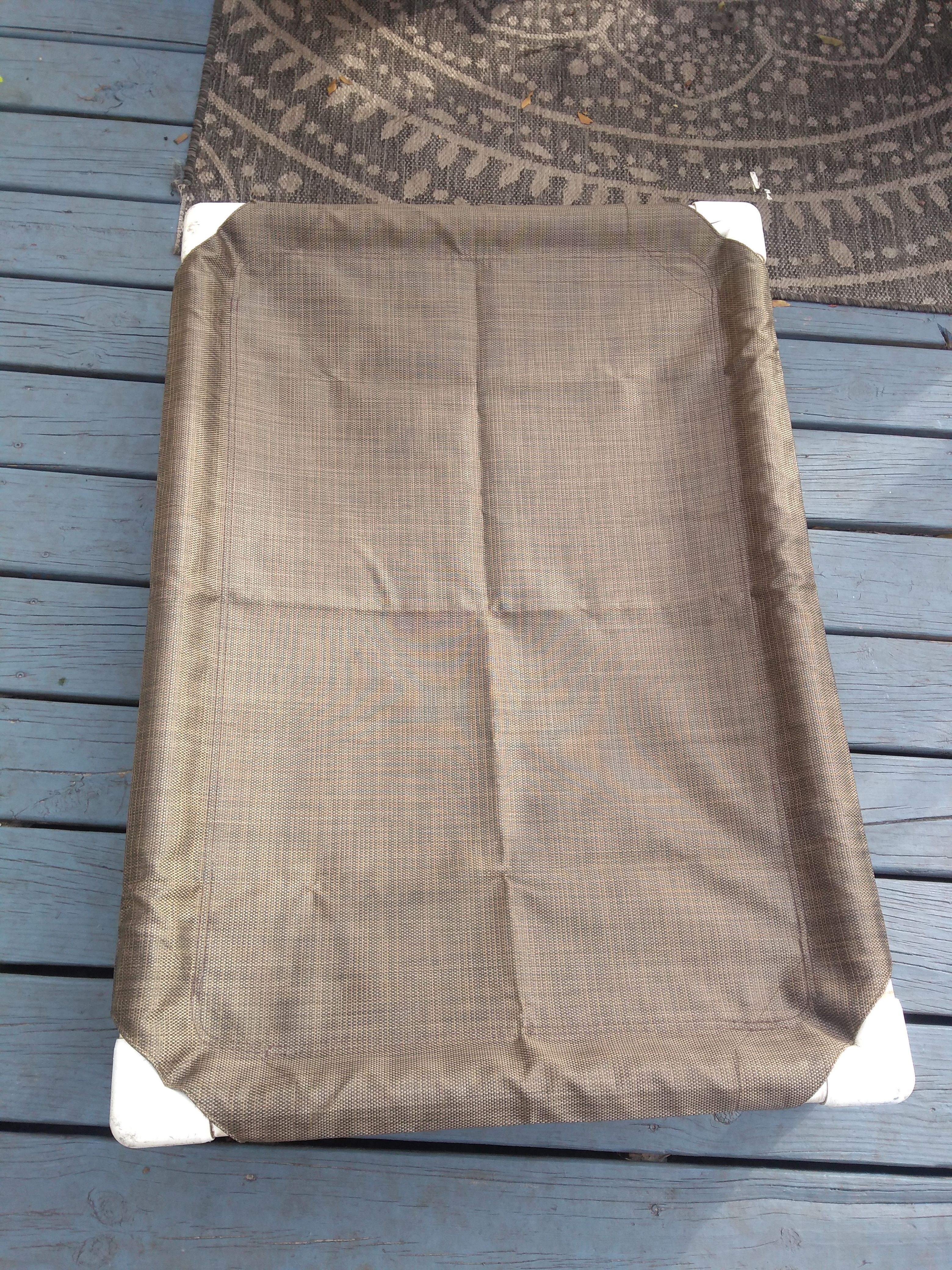 Shopping sources: I like to support local places, even though most of the above are probably made in China, but at least it helps the local workforce. I rarely shop on Chewy or other online suppliers but understand the convenience. All the toys pictured on the main "TOYS" pics were purchased at Tractor Supply Company (nationwide locations), or Rural King (mostly rural areas). Plush toys can be found at your local Goodwill, just make sure they do not have hard eyes, etc. The raised beds were purchased at dog shows, my source for bedding and the raised beds, but can be ordered online. I have a link on the PUPPY page for a great source for the double fleece crate beds, and made in USA. 
Happy Shopping!