Ale Alejandro, 12 yo 15H TB gelding (NOT FOR SALE)
Gettysburg, 16.2 Reg. Appaloosa, 10 yo (not for sale)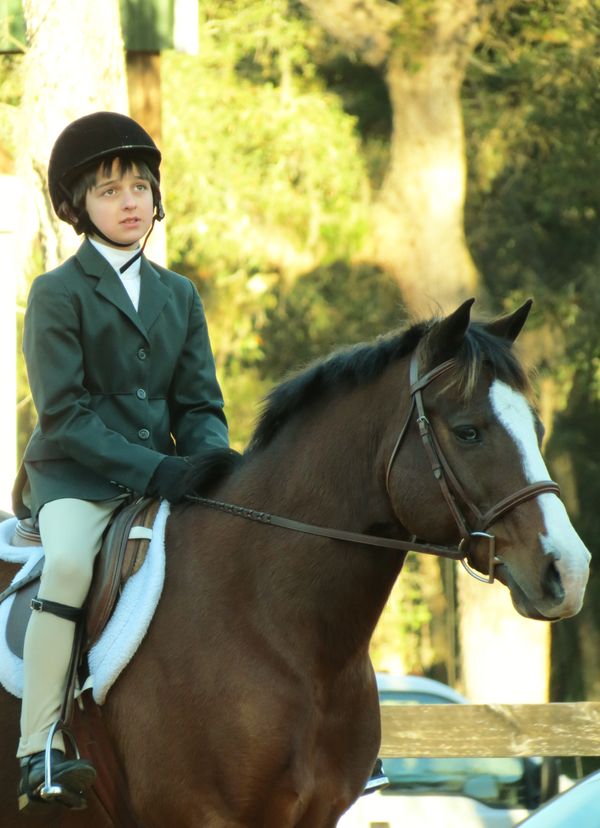 Rio has been in our family for ten years, starting as my son's crossrail pony to transitioning to my daughter's show mount in Pony Hunters. He is unflappable and a true begginer-safe pony. Minimal prep at shows, very hop on and go. Does not need a routine, can be out at pasture for months and will ride perfectly on any day you choose to get back in the saddle.
My fondest memories are my younger son Marc attaching a Publix plastic bag to halter (putting on a bridle was way too much effort...) to go hunting for lizzards, frogs, and crickets, all live and carrying on in the bag. Marc would then romp the paddocks with a wood lance and "attack" all sorts of imaginary monsters, plastic bag floating along- not to mention, bareback. Rio taking it in stride all the while, never batted an eye. Marc never took showing seriously and much preferred the hunts he would create; you can see in pics how distracted, non-competitive he was! 
So, as Marc's interest weaned, my daughter Sophia took on showing duties. Rio is a perfect gentleman in all new settings- including trail rides at the Horse Park, or the occasional ride for mom, which are once in a blue moon. At my age, I don't have the time or patience to risk a fall, and Rio is always my go-to. Clearly safe and willing, but still fancy enough to always be in the ribbons. He is built very correctly and stout, so suitable for a small adult or could be a young riders' dream pony as he could easily take them from leadline all the way through short-stirrup/ pony hunters. Brave enough to do eventing, easily goes through water and has never refused any jump.
In recent years, Sophia has gone to college so he has been used as a safe pony for non-riders or visitors with children, as well as the occasional show mount whenever she is back for christmas break or summers. He is a once in a lifetime pony and we will be heart-broken to see him go but, my daughter and I feel that he's too special to be wasting his talents in a pasture for 10 months out of the year. Only selling him to help pay for Sophia's college and his next family will be vetted and asked to remain in contact. No leases/trades. Throughout his lifetime, he will forever have a home here with us.
Serious inquiries only please, contact Sophia at (352)801-2859.