Warmer weather, longer hours of daylight, are all welcome signs that spring is here! It's the season to feel fabulous and healthy! Unfortunatly, it is also the season for allergies, more bugs, etc., all of it resulting in some irriating skin issues. So, here are a few items we keep on hand and we recommend, some as preventatives, some as a home remedies to try before rushing out to the vet's! All are over the counter products that can be purchased at pet and feed stores, or online.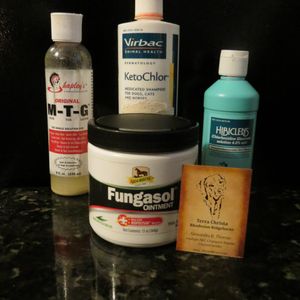 Bug Bites, Loss of hair, skin irritation?
Fungasol OIntment: has the consistency and smell similar to Vicks vaporub. Helps to treat fungal and bacterial skin conditions such as dry, flaky skin, small wound bacteria, etc. My fellow horse enthousiasts will compare it most to SWAT except it also has a medicinal function! I use it to keep small scabs moist and

supple, and also as a bug repellent on scabs when your dog is outside. 

Chlorhexidine Gluconate solution is the official name, but commonly known as Chlorhexidine soap and distributed as Keto Chlor shampoo for dogs. It is an antimicrobial skin cleanser that helps reduce bacteria on the skin. Recommended for small area washing to reduce staph colonies in humans, same effect in dogs. 
MTG: stands for Mane, Tail, and Groom and was first used in horses, and now expanded to dogs. Not my favorite product because it smells and is oily, BUT the best product for skin healing AND hair growth. It is basically a mixture of mineral oil and sulfur, so great for fungal skin issues.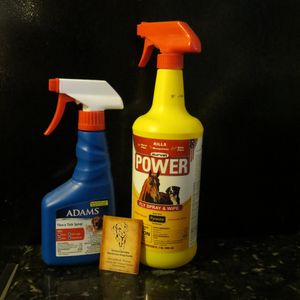 Flea, tick and fly protection
Adams flea spray: tried and true, dogs hate it, but it works! I use it more as a preventative to kill fleas before coming home. So, at shows or coming back from a dog park, use it before your dog gets in the car or back inside your home. 
Durvet Power fly spray: going for a long hike? headed outdoors for an evening stroll? I like this product as it is water based and has a citronella scent! So, the gentler, kinder version of Adams above, use it as a fly and mosquito spray AND will also kill fleas.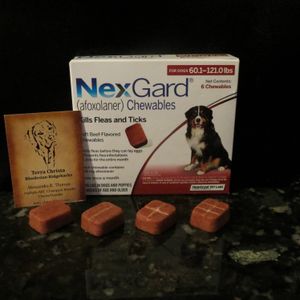 Nexgard chewables

 is our product of choice for monthly preventative. Our mild Florida weather means winters do not kill bugs, so we treat year round! Nexgard is both effective and versatile as I can adjust the size as my puppy grows! Here is my money saving tip: buy the largest format, which covers a dog up to 120#. Then cut the tablet in the size you will need. Puppies leave here with their first dose, so will not be due for another month. Weight gain is about 8-10 pounds a month so you can adjust the size of the chewable as your puppy grows! In the picture above, I carved the chewables to show a 60# dose (half), a 30# dose (quarters), and then a 20 # dose (in 6th, this is what the puppies get before leaving home). 
Now that we are bug free and protected, let's bid farewell to freezing temperatures and long nights, and welcome Spring! Time to spring into good health and enjoy the season with some fun and frolic! Enjoy! 
                                                      ~~~~~~~~~~~~~~~~~~~~~~~~~~~~~~~~~~~
          Want to hear more? Do you have a question or topic you would like covered? Any ideas or product you would like to share? Send us an email at Terra_Christa@msn.com!