The following are pictures of puppies we have bred along with some testimonials from their new families. We love hearing back from our new families and get the most honest and unedited feedback. We are hoping that sharing these insights will assist you in making an important decision and also relieve those of you who are quite a distance from us. Our puppies are in demand across the United States and even overseas. The simple truth is the majority of our puppies live outside of the state of Florida, so make sure to notate where the testimonials come from since we have happy families as far as Seattle and the state of California!  As it turns out, we have quite a fan base in California! I would also like to thank all my new doggie friends for all the wonderful feedback I have received from you guys over the years.  You are the best!
Testimonials from our new families!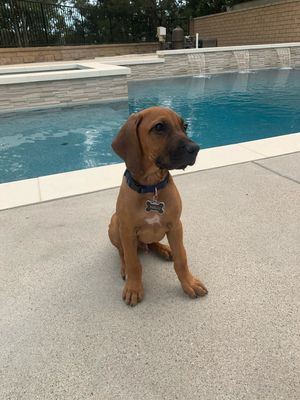 "Hi Alex,Just wanted to send you a pic of the BEST puppy ever!!🥰 love him so much!! 
I hope you and your family are doing well. You are in my thoughts and prayers."
Cindy, Mission Viejo, CA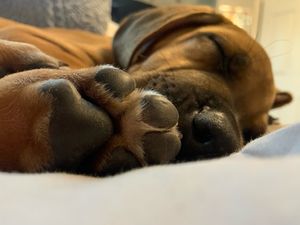 "Hey Alex! Just a little update to tell you that little man is doing great and adjusting well. His checkup went good as expected and he is already a well spoiled member of our family. Thank you for such a special dog ☺️"
Holy, NC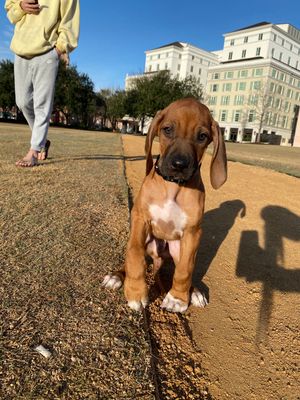 Hey Alessandra I know this is long over due but here are some pictures of Brody over the past couple months. Thank you so much for giving me the best dog I could've asked for. 
Connor C.,
Charleston, SC
Hi Alex,
Just wanted to give you a quick update on Wrigley. He is turning into such a wonderful dog! We love him so much and i am so glad we decided to get a Rhodesian Ridgeback. Wrigley is VERY smart and picks things up very quickly. He is only 6 months old but is by far the most trainable/obedient/smartest dog we have ever had. He is also incredibly sweet and loving with our 3 year old daughter and her friends. He loves is morning walks and playing with his Uncle Rex (the Lewis's Ridgeback, Binky's brother). I've attached a couple photos of him now. One solo shot a few weeks ago and then one of him and Rex the other day. I can't wait until he is old enough to go on mountain bike rides with me! He is already about 64 pounds. What do Mona and Binky each weigh? I am guessing he'll be around 100 pounds? He is already slightly taller than Rex. Very long legged! Hope all is well.
Kyle S., 
Quincy, CA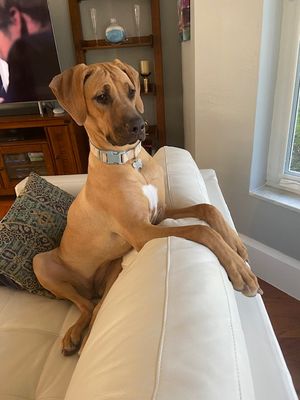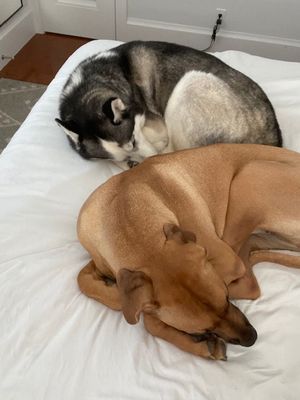 "Hi Alessandra,

I hope you and all the pups are well. Here is a quick update on Daphne:

She is now 10 months and weighing in at 78lbs. She just got spayed this week and has bounced back completely. She is in perfect health.

She has the best, most optimistic personality. She loves everything and is so curious. She's never met a person or dog she hasn't liked. 

She's a cuddle bug and is inseparable with her sister, Aria. She also loves to spend as much time as possible with both mom and dad. And she's a lucky girl to have had us both home for almost 3 full months straight while we work from home.

She graduated puppy school and is doing great with her training. We are trying to break her of her jumping habit at the moment but is otherwise very well behaved.

She is a wonderful guard dog. She will never let a squirrel or lizard stay in our yard for too long. We have nicknamed her "border control."

We have 1000000 more photos if you'd like to see any of them. She's been the perfect addition to our growing family.

All the best,
Jenny and AJ B. "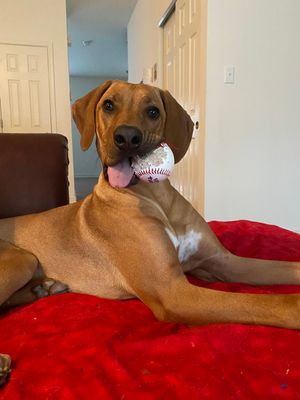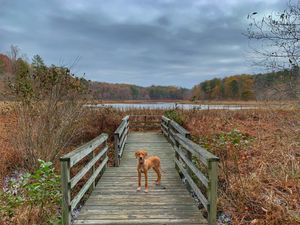 "Hey Alex, I wanted to send you a couple pictures of our sweet girl Echo!  
We love her so very much and she is so smart and athletic! We started formal training with her last month and to date she can do the following on command: sit, focus, down, stay, come, wait, lay down, shake, touch, leave it, drop it, go to your rug, go to your spot, and give kisses (without licking). Very smart and eager to learn and show off her skills! She isn't kenneled during the day at all and does great! We take her hiking all the time, and nightly walks on the golf course where she always gets a case of the zoomies! "
Eli, Ft. Lee, VA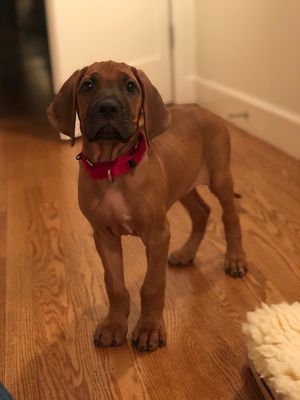 "HI Alex!
Oh my gosh we all love this dog so much. He is seriously special! I am going to train him to be a therapy dog and if I can I will bring him to hospitals and retirement communities. He is so beautiful and stops people in their tracks and he is also so people oriented. 
My boys are obsessed as well. My husband is still a little skeptical but I have seen him melt a few times so I think we may win him over yet!
I hope you are doing well,
Maeve "  San Francisco, CA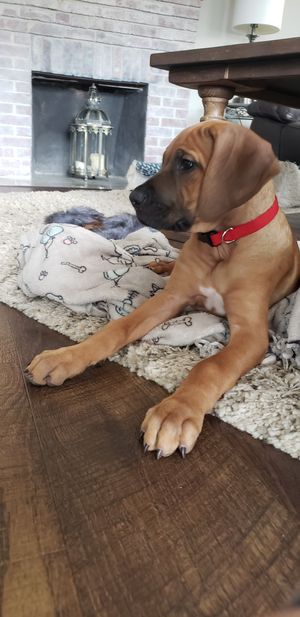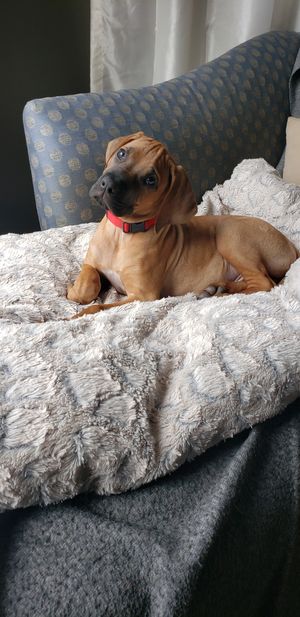 "Dear Alex, 
He is such a good boy! He arrived house broken...how did you do that?
Not one accident anywhere, walks well on a leash and is very happy boy!"
Nicole, NH.
"Hi Alessandra,  
I hope this note finds you well.  I wanted to send you a picture of last Ridgeback we got from you.  HIs name is Ziggy.  He is with Bo licking his ear in one photo.  He is such a lovely dog.  He is loving and super smart.  Thank you for breeding such beautiful animals.  
Warm regards,"
Leah F., Malibu, CA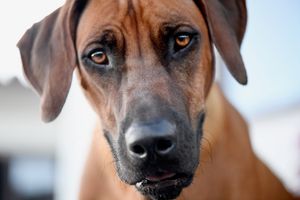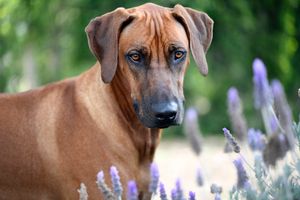 Note: Leah and family adopted their first boy, Tank, in 2013. Followed by Bo in 2014, both Gaius sons and wonderful family members! They are pictured below with Bo being the pup, and above, as an adult getting his ear licked by Ziggy, the family's 2018 addition. This will be our second California family adopting three pups from us...they are addictive!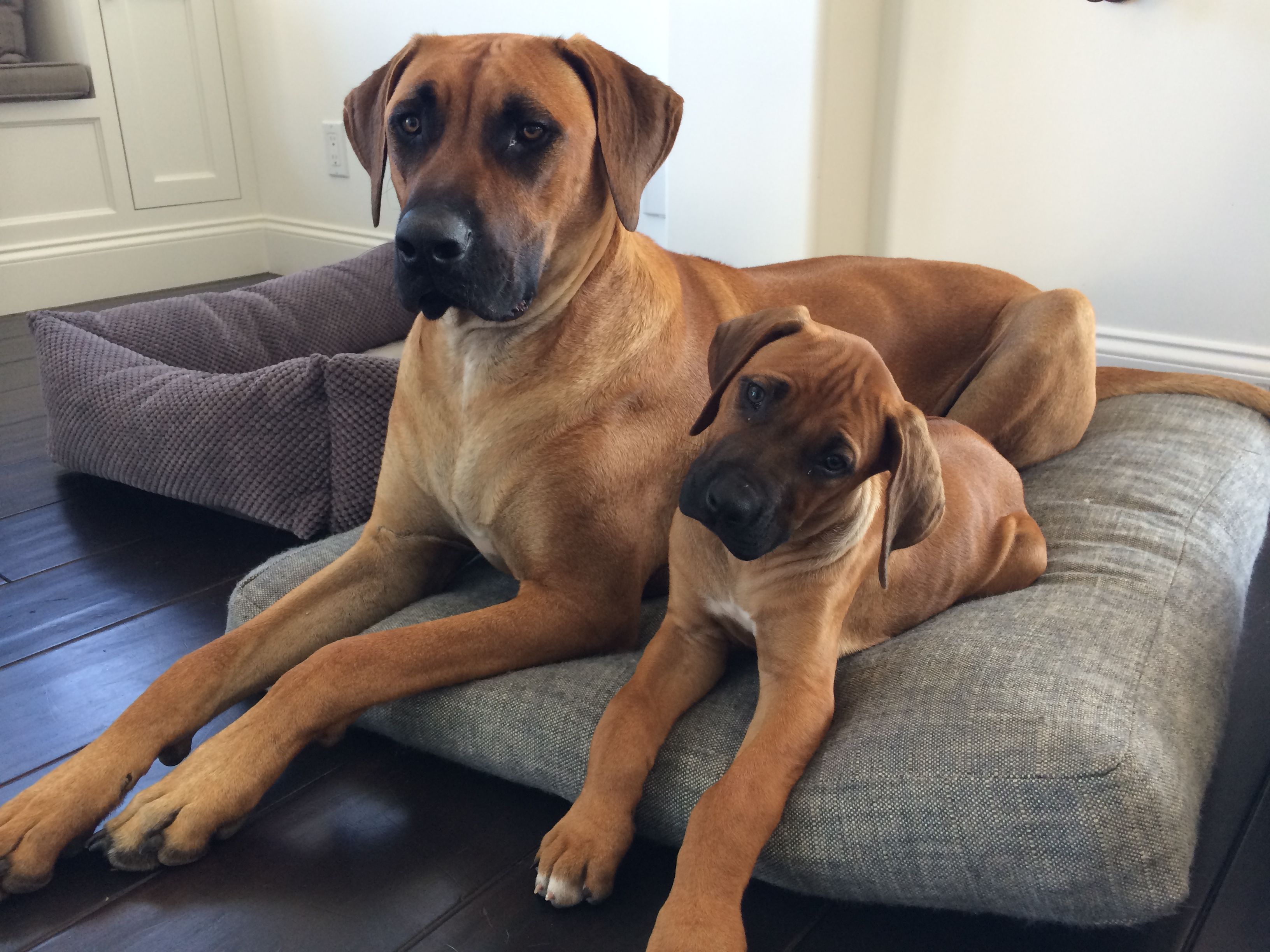 "Hello Alex,
I hope all is well. Just wanted to show you our handsome boy. He's doing so well. He just completed his kindergarten class training and is moving onto basic this weekend. He really is a wonderful addition and we adore him. Thanks again,
Mandy F", VA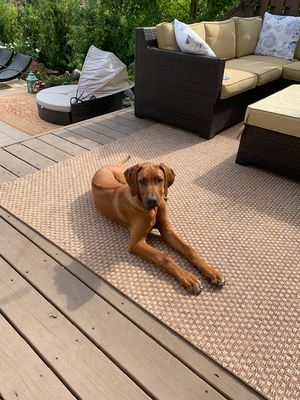 "Alex, 

Daisy has been the best addition to our family. She has brought Duke & Nala to life. We love her so much she has such a sweet little spirt. "
Mary Anne D., AL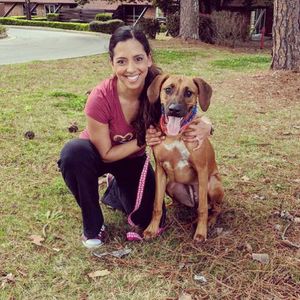 "Hi Alex! 
Just wanted to give you an update on Tuscany! We are absolutely in LOVE with her! She is exactly what Kris and I were looking for. She is the sweetest little pup ever! She gets along with the my brother's dog and my Aunt's dog and everyone just loves her. She is so pretty and adorable and we are having so much fun getting know her. She is very adventurous and friendly to everyone she meets.
Thank you so much for bringing us together. I'll send more pictures and another update soon :)"
Allison M., FL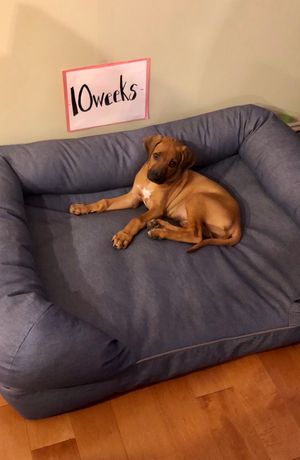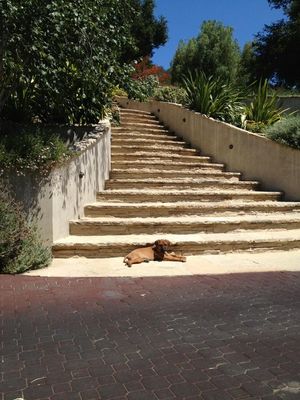 Scott and Sabine, from Thousdand Oaks, CA, have three wonderful girls from me...all starting in 2012 (June pictured above):
"Dear Alex, We just want to say Hello and send you some pictures of our two girls " Lucrezia " and " Flygirl". We absolutely love them! They created a big Rhodesian Ridgeback fan club here in California and they love each other! Such wonderful amazing dogs!!!! They enjoy spending the days at the barn and running on the beach!! Thank you for all your help Warmly Scott and Sabine" in 2013
"Hi Alex My friend and client Rebecca Neff is an equine photographer and she took this beautiful picture of Flygirl and Juni on our ranch- what a great shot. It is featured on equine photography network and has gotten lots of hits and comments from all over the world We love our girls!!!! All the Best Sabine and Scott" in 2013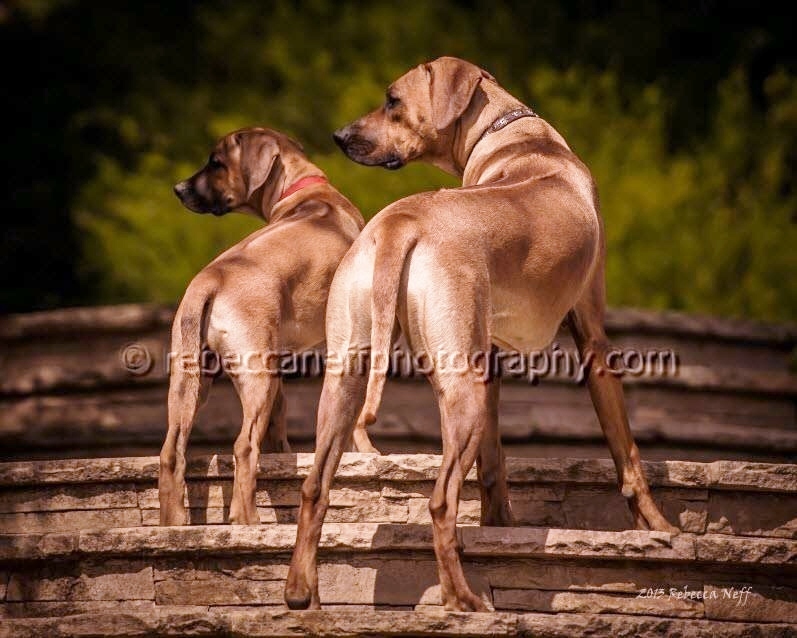 and now, six years later:
"Everybody's barn favorites, best dogs ever!!
Greetings from California
Scott , Sabine and the girls"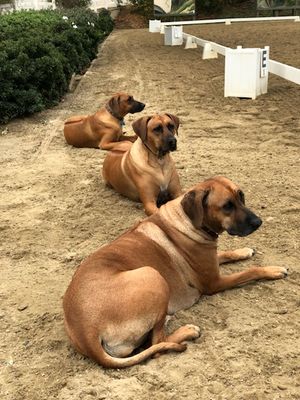 Hi Alex --
I don't know whether it is nature or nuture — probably both — but our new puppy is incredibly well socialized for being so young!  She is confident and playful with but also appropriately deferential to our other dog as well as our cats.   She has handled all the attention from our excited family with aplomb, and has shown little sign of stress in the very big transition from your home to ours.  She even arrived totally primed to be housebroken, which is such a big help — she's been doing really well with that already.  We couldn't be happier.  We've named her Nala.  Thanks for this lovely new member of our family!
Best wishes,
Lynn E., NY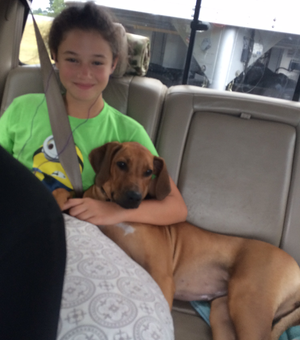 Tula is an outstanding pup! She is very smart …set,stay,shake, fetch. Tula knows COME, but is very stubborn!  I know it will all come. She is a great traveler … we have taken her on a few trips already. We just returned from a road trip to upstate NY, she is a trooper. It seem like all the pictures I have are of she and Aniston in the back going some where … the latest one was Monday. Tula always goes to our shooting matches…the gun fire never bothered her! She has a great disposition …very friendly, acclimates to anything. We get so many compliments on her…I tell everyone where she came from!  We went to Montana to ride horses, and she was even boarded for the first time, even took to that. She is 5 month old and is about 45 lbs. I don't know how she is size wise, she fits in the tiny house pretty well. Tula loves Aniston most (she doesn't live with us, but has been here most of the summer). They run and romp all the time! We have to keep her away when Aniston rides, otherwise Tula will chase her. Thanks again for our great puppy! Fondly Brenda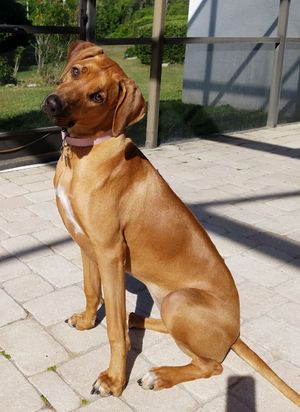 Hi Alex,
Thank you so much for the email, Juno is doing great, she is sweetest dog, everybody loves her, she even gets along with our guinea pig, here are some of her recent pictures.
Thank you for such a wonderful dog.
Bin L, FL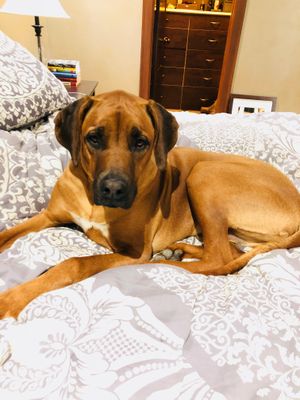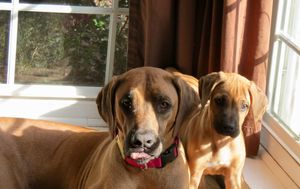 Mom Chili and son Wally as a pup (above),
                           and as a young adult (left). "
"He does look like her!!! He's amazing. We love him so much. He's so good with the kids. A true gentle giant!!!"
Alyssa R., NE
"Hi there Alessandra – Happy New Year. I wanted to send you a current photo of Murphy, now 5 years old. He's such a great dog and we love him to bits!
I ran into a fellow alpaca breeder friend, Lynn E., at an alpaca show and she said she'd gotten a puppy from you too. What a coincidence! We're both happy customers of yours! Many thanks!
Hope all is well with you and yours,
Jeanne W, Lexington, VA"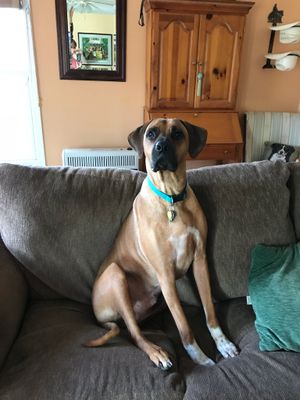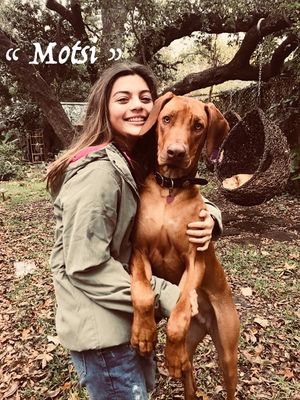 Hello Alex:
You have no Idea what an amazing family member Motsi is!!
He is sooo loved and so happy!
He has a great schedule, he goes to doggie play date at the doggie park every morning, where he plays with his regular friends and new ones off and on, then on
the weekends he goes to the ranch and loves to visit the cattle and chase the turkeys:)
I am sending you some pictures of our baby and we are so excited to celebrate his first birthday!!!
He has turned into a handsome and extremely smart boy, we are sooo amazed on how smart he is, never ever has he ever gone potty inside the house!!! Not even once
when he was a baby!! He literally came potty trained:))
He opens the door to let himself out or cries to have someone open the door for him:)
He has perfect markings and has a handsome trot and gallop.
Congratulations on such beautifully breed dogs!!! It certainly shows!!
Please send his love to his mommy and daddy and tell them Motsi LOVES his home!!
Warm Regards,
Elena O, San Antonio, TX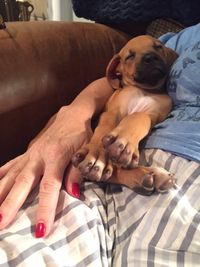 "Alex,
I received the AKC papers. Thanks. 
I have attached a few pics of Khaleesi. She is the light of our life. 
We are so happy with her and she is very happy in her new environment. 
She's probably a bit spoiled. She is already crate trained and has not had any accidents since the first day we got her. 
She was 10.8 lbs the day after I brought her home and was 15.5 at our next vet visit eleven days later. She is growing fast. 
Hope you have a great summer abroad. 
Best,
Jon"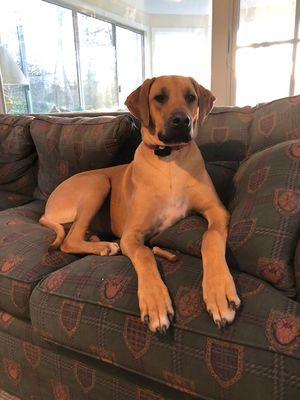 Upate at one year of age, April 2018:
" Alex,
Here are a few photos of Khaleesi. She is the most beautiful, affectionate and sweet dog. We could not be happier and we think she is very happy being in our life. 

Best,
Jon and Julia"
Jon C., Canaan, CT
"Hi Alex,

We are good. Always loving on the best dog ever! We constantly talk about how we don't know what we did everyday pre-Mako. He's truly the best and always gets so many compliments on his temperament and looks." K.F., Jax, Fl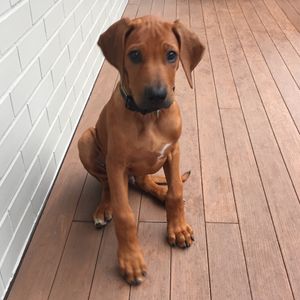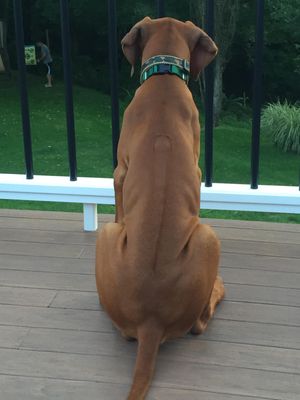 "12 weeks... One of the favorite pics!! I mean look at that face!! 

He's doing great! So lovable and fun of energy! Doing awesome at puppy training!!

Growing like a weed...He weighed in yesterday at 30Lbs!"      Kelli R.